Jump! Duck! Run! Obstacle Race 2018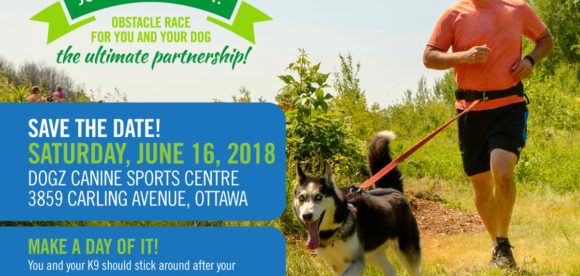 ARE YOU READY? GET SET….GO!!
Join us for our 2nd annual 2.5 km Obstacle Race for You and Your Dog! Visit our event website to register and for more details: http://www.jumpduckrun.com/
DUCK! JUMP! RUN!
Obstacle Race for You and Your Dog…
The Ultimate Partnership!
Imagine…You and your dog running in perfect partnership (okay, maybe in intermediate harmony or possibly in absolute discord, but that is what makes it fun:) through 2.5 km of strategically placed obstacles. You will be jumping over, diving under, running through some pretty fun obstacles.
DATE: Saturday, June 16, 2018
LOCATION: Dogz Canine Sports Centre; 3859 Carling Avenue, Ottawa, ON
REGISTER: http://www.jumpduckrun.com/registration.html
Make a day of it! You and your K9 should stick around after your run (or come by early) there will be other activities happening on site, LIKE:
BBQ
Try Agility
AND MORE!!
Lot's more details to come but SAVE THE DATE NOW!
This is a fundraising event and all proceeds raised will go to Sit With Me Shelter Dog Rescue and AROO~ Australian Shepherd Rescue of Ontario.